Private Catamaran Cruise
Price from £1,084pp
Duration: 7 nights
Prices include: Flights Transfers Catamaran hire Captain onboard
Holiday At A Glance
7 nights private cruise includes allocated fuel costs
Flights and transfers included
Captain on-board for the full duration
Comfort package includes fresh linen and towels
Explore the islands of Croatia
Private Catamaran Cruise from Split
This private catamaran cruise is a unique experience to explore the wonderful Croatian coastline independently with a fully qualified captain. Set sail with you and your friends on an adventure on the high seas to discover the quaint islands off the coast of Croatia, whilst also enjoying the luxury of having your own space on your private catamaran.

How Does It Work?
This private 7-night cruise is for you and a group of your choice to enjoy. On board, there are 3 double cabins to accommodate 3 couples, plus one cabin to accommodate your captain. If you wish to bring any children with you, the catamaran can accommodate a further 2 residents, as there are 2 single beds that can be arranged in 2 of the cabins. Food and drink will be at your expense and it is important to note that the captain's food is your responsibility. So, whether you adopt the captain as an additional member of your group including them on meals ashore and cooking for them on board or simply leaving them an allowance of €30 per day to cover his meals, this responsibility is yours.
A typical route could take you from Split to the islands of Brac, Hvar, Vis, Solt and finally back to Split, however, all route suggestions can be custom-made according to your preferences, wishes and of course, weather conditions! Your captain will help guide you through the glistening turquoise waters of the Adriatic and routes can be altered during the trip. Of course, the more sailing you do with the engine the more fuel you would use - as you can't always rely on sail - so we generally recommend 3-4 hours of cruising per day. We have included €250 of fuel as part of the package, any extra would need to be covered at the end of the cruise, as it needs to be returned with a full tank.
We have 2 of the Lagoon brand catamarans to choose from - the 40 or the 42 - the latter having a little more space on board at 12.8 metres.
We can offer smaller or larger catamarans, sailing or motorboats, so do ask for more details if you require alternatives.
Check out the more information tab for the boat specifications and a guide to see the full list of inclusions.  
Our price is per person and based on 6 passengers.
Example Itinerary
Below is a typical example of an itinerary for a 7 day cruise. Route suggestions can be custom made according to your preferences and are subject to change due to weather conditions.
Day 1
DAY 1: SPLIT


On your first day in Croatia, you should start it easy. Heading from ACI Marina Split and our warmest welcome, we suggest taking a short route to Milna, situated on Island Brač. Bay of Milna, also known as the bay of fishermen and sailors, is one of the most beautiful places on the island of Brač. It has a well-equipped ACI marina, a good place to spend the night in and it serves as an excellent protection from strong winds. If you don't want to spend the night inside the marina, there are other places to drop anchor along the promenade, or in small bays near Milna. Bobovišća bay is another option for dropping an anchor.
Day 2
DAY 2: ISLAND OF BRAC


The second day is when you speed up a bit. Leaving Milna and its historical stone houses, you would want to mix up things and stop in Bol. Famous mostly for Zlatni rat (Golden Horn) beach, Bol, thanks to the favourable winds that also shape Zlatni rat, offers you lots of adrenalin sports such as kitesurfing, water-skiing or diving. After all these sea activities, the best way to continue your adventure is an overnight visit to the small town Vrboska, on the island of Hvar. Regarded as "Little Venice", Vrboska will steal your heart as you will fully understand the comparison with the Italian sister. The old, tightly packed houses, with elements of Gothic, Renaissance and Baroque style, all inside the secluded bay is exactly what you need after the adrenalin you experienced before.
Day 3
DAY 3: ISLAND OF HVAR
After Vrboska, you should definitely stay on Hvar, and head for the Hvar Town. Passing along the west cape of the island of Hvar called Pelegrin, wonderful sights, such as the bay of Pribinja, Jagodna and other areas of outstanding natural beauty will capture your attention, until you come to Hvar. Rich in monuments such as Hvar Cathedral, Arsenal and franciscan monastery and a real gem, the first civic theatre in Europe built in 1612, Hvar has a great cultural significance, and historical too. The Fortica Fortress is another example of the long history and architecture. Climb up on it and prey your eyes on the beautiful view of Pakleni islands, numerous bays and beaches. Exceptional gastro offer in Hvar can be tested in many restaurants: fresh fish, olive oil, and wine from the island vineyards will tingle your taste buds. Although Hvar is soaked in history, it is very much alive and synchronized with the modern world, as it is well-known for its parties and night life that attract young people from all over the world, among them lots of those coming on sailing boats and catamarans. For the ones longing for some peace and quiet, we suggest avoiding such nights on Hvar (usually on Sunday and Monday night). ACI marina Palmižana is an option to spend the night in. For more romantic setting, there are number of well-protected bays to provide shelter for the night. Be aware of the shallows and rocks under the surface.
Day 4
DAY 4: ISLAND OF VIS
After a good nights sleep, it's time to set sails. We recommend sailing to the southern side of island Vis, towards the small islands of Budikovac and Ravnik. Before getting there, you can make a stop at Stončica bay with beautiful sandy beach and a lovely restaurant. Perfect time to get to know "picigin", Dalmatian beach sport. Coming to the beautiful Budikovac you can sail into the lagoon where you will find an amazing pebble beach, but bear in mind that it's quite shallow and there are some underwater rocks on one side of the Laguna. The tour continues with the Green cave on Ravnik island, and Stiniva cove, nature's works of art. Winds and waves have carved in the amazing sights inside and outside of hard Dalmatian rock making astonishing color patterns. Keep your jaws and phones checked in order not to fall into the sea. Sailing on, you will reach the town of Komiža, small town with a long maritime tradition. We recommend spending the night here, enjoying the calm evening and tasting the Viška Pie, island specialty made of dough, sardines, tomato, olive oil, and onion. 
Day 5
DAY 5: ISLAND OF VIS
Rise and shine! Early in the morning sail towards the island of Biševo and one of the most famous sights of the Adriatic, Modra špilja (the Blue Cave). Situated only five nautical miles south-west of Komiža, this nature's wonder is unforgettable. It is highly recommended to come early, before the tide, as the entrance can be flooded or, due to a high number of visitors in boats, jammed, making you wait for your turn even for a couple of hours. The main part of the cave is an open space under the sea which, in combination with the third opening in its roof, about three meters above the sea, creates the most extraordinary and beautiful light effect. After the wonderful "blue experience" you should start sailing along the northern side of the island, making short swimming stops in bays along the way. Heading up, you will come to the town of Vis, typical Dalmatian town, beautiful and full of history. We recommend staying overnight and seizing the day by going on Vis – Military tour (the island had an important role in World war II and afterward was isolated for more than 50 years by being a Yugoslavian naval base till the latest war in Croatia). Other options such as Discovery Tour (tour of ancient Roman excavations, numerous sites that have taken away the breath of Romans and Greeks in ancient times, including modern museums and churches), walking on wine roads, mountain biking, free climbing, paragliding, fishing, diving, and swimming, of course, can play a part in entertaining you as well.
Day 6
DAY 6: ISLAND OF SOLT
So long Vis! Time to start going back direction Split. On your sixth day, we recommend taking a bigger chunk of sailing and head for the island of Šolta, without a doubt one of the must-see destinations on your nautical chart. You can pick your favourite to spend the night choosing among the bay of Nečujam, marina Rogač, get the feeling why sailors love Stomorska or visit the Maslinica. Spend some time in the beautiful marina in Maslinica, once small fishermen's and now a touristic and nautical centre of the island. Along the way enjoy the beauty of southern bays of this picturesque island and get to know the beaches.
Day 7
DAY 7: SPLIT
Last day of your journey should be reserved for relaxation. We recommend dropping anchor in front of Blue Lagoon, site of Krknjaši, on a small island Drvenik. White sand combined with the crystal blue water and sun gives a perfect setting to enjoy in swimming, kayaking, paddling, making a memorable charter even more unforgettable. If there's still time, as you are to come to ACI Split before the evening on Friday, you can visit the historical town of Trogir (can be crowded), or make a stop on the nearby island of Čiovo. ...and you're back with us! Take a good nap in ACI Marina Split and see you in the morning. Don't forget to refuel the boat! 
Inclusions
Return flights & transfers 
Catamaran charter
Captain on-board for the full duration
Fuel - average €250/€350 per week for 4 hours cruising per day
Comfort package: Includes - All cleaning and disembarkation cleaning, fresh linen & towels, WiFi, gas & toilet roll 
Extras 
Food & drinks
Guests are responsible for feeding the captain
Paid locally by guests: Security deposit for the catamaran - €2000, any extra fuel consumed above the €250 allocated and €1.5/kn 10 (Croatian Kuna) per day of tourist tax
About Your Catamaran
Lagoon 40/400
Immediately, your private catamaran stands out with her individual, streamlined and accomplished design depicting her large portholes and panoramic views alongside an exceptionally comfortable cockpit and aft area. The outdoor dining area can accommodate up to 12 guests, with a recreation area on the same side and seating at the rear beam. Additionally, there is a sunbathing area at the front of the catamaran with a wide net to enjoy the marine life beneath. Inside offers a spacious salon with a large hull window glazing with integrated portholes in the cabin providing exceptional natural light throughout the catamaran. The luxury cabins are located in the corners on the catamaran and provide a cosy feel to your trip on the seas after a day soaking in the sunrays.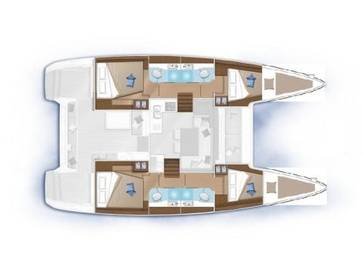 Fast Facts
Length - 11.74 m
Beam - 6.76 m
Draught - 1.35 m 
Cabins - 4 (4 double cabins plus 1 single bed available in 2 cabins)
Berths - 12 (8+2+1+1)
WC/Shower - 4
Engine - 2x45HP YANMAR 
Fuel capacity - 400 L
Water capacity - 600 L
Lagoon 42
Lagoon's newest cruising catamaran with a beautiful silhouette, organic approach and smooth, elegant curves. While it retains the main features of the new generation of Lagoons, it sports a powerful and dynamic design and you can now achieve the same sailing experience as with a mono hull. The smallest angle towards the wind is significantly diminished by moving the mast to the back and by repositioning the weight to the centre. The open transoms and one-level living space from cockpit into the saloon is new for Lagoon and provides a nice unobstructed living area. All its characteristics make the new Lagoon 42 the ideal boat for an active holiday, by joining maximum comfort with an exquisite sailing experience.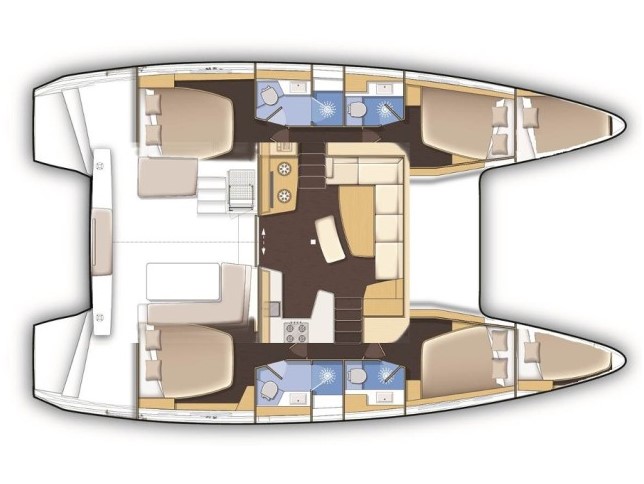 Fast Facts
Length - 12.80 m
Beam - 7.70 m
Draught - 1.25 m 
Cabins - 4 (4 double cabins plus 1 single bed available in 2 cabins)
Berths - 12 (8+2+1+1)
WC/Shower - 4
Engine - 2x57HP YANMAR 
Fuel capacity - 600 L
Water capacity - 300 L

Start
End

Low Season

Price from £1,084

pp

High Season

Price from £1,641

pp
Enquire Now
---
Have a question, or want to discuss how we can personalise this holiday for you, please call one of our travel experts or enquire online.
0800 970 9149
Price from £1,084pp