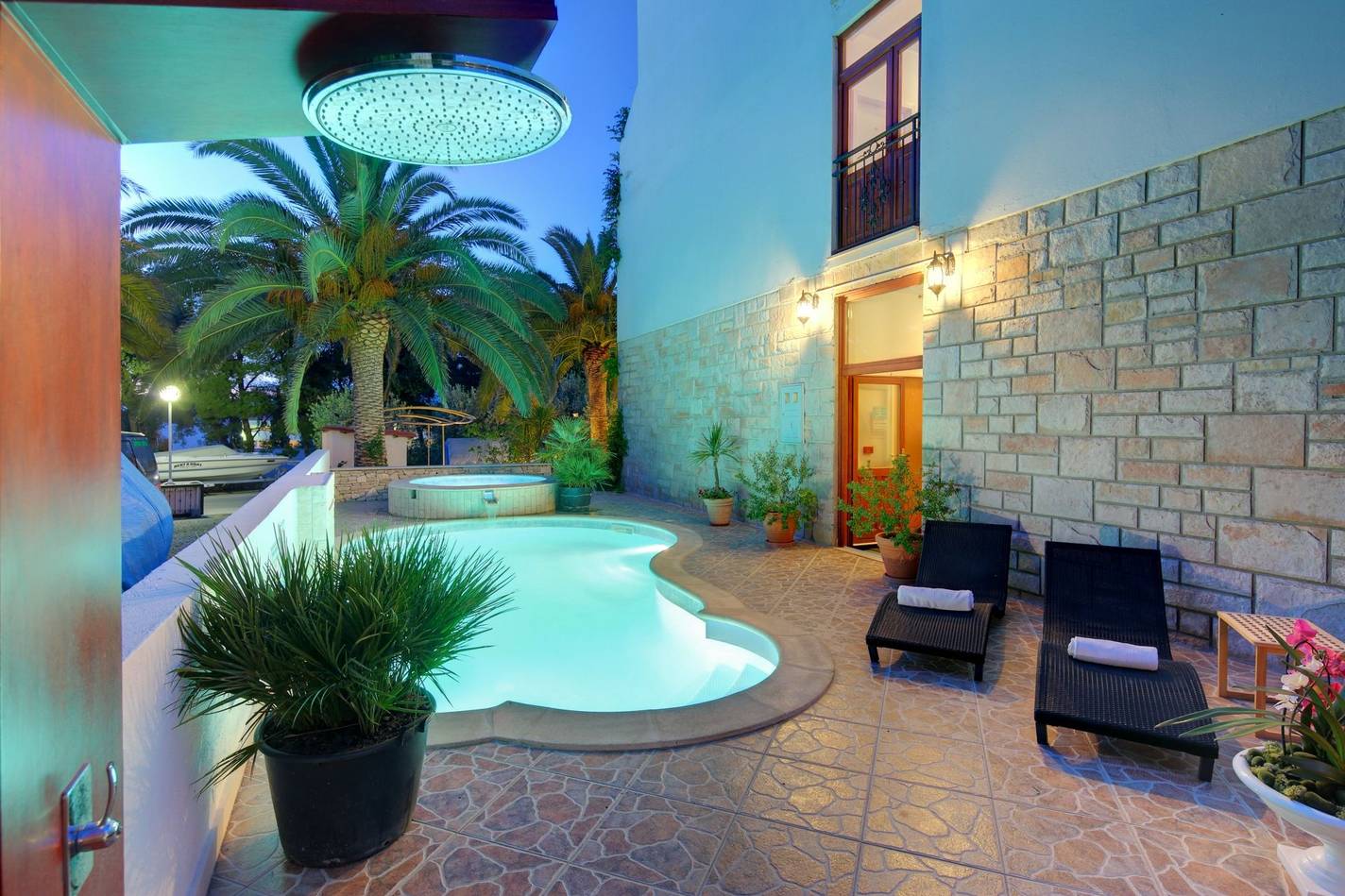 Whilst we were at the World Travel Market last week, we met up with Dan, the Owner of Villa Adriatica a small family run boutique hotel in the lovely fishing village of Supetar on the island of Brac.
Its always great to meet up with our long standing friends, but also – He gave us some great news – what we are ALWAYS short of is great value but good quality family rooms. And for Summer 2014, Dan is converting 6 of his double rooms into 3 larger family suites which will accommodation two adults and 2 children with privacy and in great style as well.  We're expecting these to be very popular. And it looks as though he will gain 4 star status as well. We've always felt this hotel boxed well above its weight anyway so this is well deserved.
The cruise programme has also seen expansion for 2014 and we have added a Cruise and Stay option which allows holidaymakers to fly into Zagreb, explore the capital City of Croatia, then enjoy a trip to the famous Plitvice Lakes, before then joining a top class cruise which island hops around the Croatian Islands of Cres, Losinj, Rab, Krk, and calls into Zadar as well. 
Villa Bellezze also makes its debut within our portfolio for next year.  A real top quality villa, sleeping up to 6 people in real comfort, we are sure this will suit the discerning holidaymaker who wants a villa close to Dubrovnik with all the trimmings including a private chef and butler if required!
Our loyal client Mr Knight has also booked his 7th holiday with us in as many years.  Very discerning he has booked the wonderful Hotel Maritimo in Makarska.  Another hotel which we really rate, right on the beach in a peaceful spot at the end of the promenade at Makarska.   He's wise to book it now though because this will be fully booked for Summer 2014 soon
With his holiday confirmation, we decided to show Mr K how much our list of frequently asked questions had grown in the 8 years we have been in business and sent him an updated copy.  To which he replied with his own suggestions.  .  A couple of these, we have actually genuinely been asked – honestly !
Here they are – with tongue firmly in cheek – we hope you enjoy them as much as we did...
Croatia Holiday FAQs 
Can I drink the water? - Water is perfectly safe to drink except sea water which you will find is rather salty.
How will I be able to choose what to eat in a restaurant? - Most waiters speak English with a bit of a funny accent.  If you're really stuck, some restaurants have pictures of their dishes outside and you can just point at them.  It will be absolutely awful but at least it will resemble the picture.
I am very light skinned and sometimes get a rash if I sit in the sun. What do you suggest? - Stay inside.
Can you get faggots in Croatia? - Not the edible type.
How do I avoid getting a Sea Urchin stuck in my foot? - Stay out of the sea,
How do I make sure I can get Fish and Chips just like they are in UK? - Go to Skegness instead.
What do you say to order drinks? - Try 'Please'.
Will locals know I'm British? - Yes, because you wear socks with your sandals.
I have very young children, will they be ok? - Yes. They have very young children in Croatia too.
Are there any dangerous wild animals in Croatia? - Yes. Teenage British tourists mostly (mercifully noticeable by their absence in Croatia!!)
Will I be able to charge my mobile phone in the Hotel? - Not if you forget to pack the charger.
How will I recognise my driver at the airport? - By the big sign with your name on it, dummy.