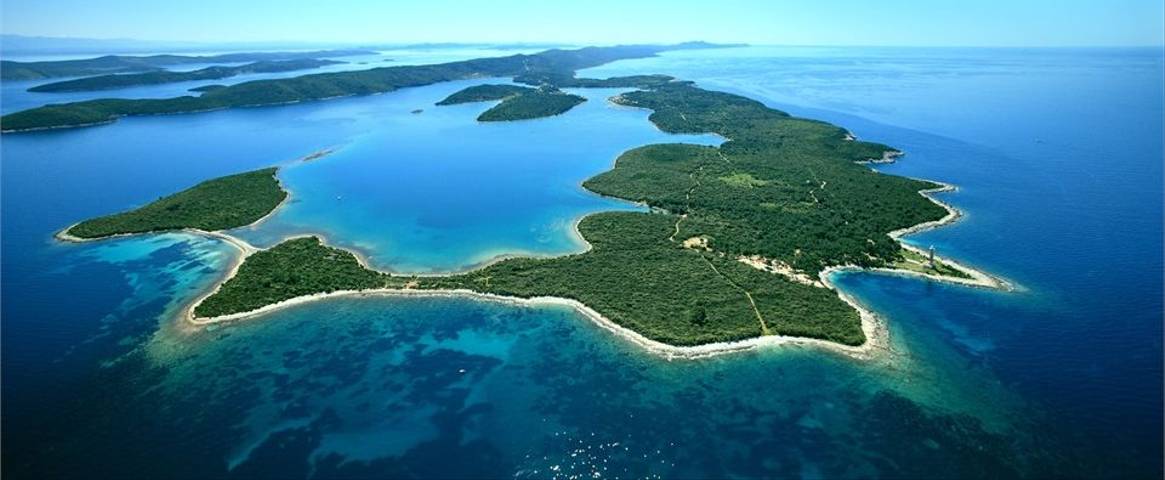 Croatia is full of glorious islands, all with distinct landscapes, heritage and traditions. From remote fishing outposts to harbours full of massive yachts, Croatian islands displace nearly every style you can image. We have put together 9 of our favourite Croatian islands that you can visit on your next holiday with us:
KRK - the Kvarner Bay, Northern Adriatic
Krk is known as the golden island for a number of reasons. Some islanders say that it is the way the sun sets as the proximity of the Dinaric mountains sometimes turns the coast into a shimmering gold haze before the sun sets red.
It is one of the largest islands in Croatia and is connected to the mainland by a road bridge.  The capital of the island is Krk Town, a beautiful, walled town with narrow winding streets, thick fortified stone ramparts, Roman ruins and historic Trg (Square) Kamplin, where there are regular performances of music, dance and theatre in summer. One of our favourite spots in the town is Volsonis wine bar which has a whole floor of Roman ruins (found during excavations and well preserved) and a wonderful outside terrace.
LOSINJ - the Kvarner Bay, Northern Adriatic
During the 19th century, Ambroz Haracic declared that the island's balance of sunshine, humidity, temperature and latitude made it the healthiest place in the Austro-Hungarian Empire for a well-being holiday and it soon became a favourite spot for Austrian and other European royalty.  And in 1892, Losinj officially received an official designation as a health resort. Today, wild herbs and plants are used therapeutically and there are 250 kilometres of walking trails and cycle paths, many of them through fragrant Aleppo pine woods or by the sea.
There are two main towns with slightly misleading names – Mali Losinj (meaning small Losinj) is actually the larger of the two! It is a stylish spot with a vibrant waterfront (yet still charmingly small) and Veli Losinj (meaning big Losinj) is smaller and quaint.
A colony of around 150 bottle nosed dolphins have chosen to make their home in the sea close to Losinj. A marine conservation society in Veli Losinj monitors them and has interesting exhibitions. Dolphin watching trips are available but as they swim freely, there is no guarantee of sightings. There is also a fabulous, day trip excursion by boat to the tiny island of Susak which is made entirely of sand. The beaches are wide and sandy and locals even try to grow vines and vegetables in sand!
RAB – the Kvarner Bay, Northern Adriatic
Rab is situated to the south of the island of Krk and known as "happy island" due to the old Roman name of the island "felix arba"! This is the island that has geologists scratching their heads, for it has over 20 sandy beaches, one over two kilometres long called Paradise beach near Lopar on the island's north coast. 
The other claim to fame is the fantastic and colourful Rapska Fjera (Rab Festival) which takes place over three days during the third week in July. Time turns back to the medieval period when the centre of Rab Town steps into the past.  In its squares and narrow streets you'll find traditional weavers, shepherds, cheese makers, artists and even witches trying to escape their fate!  On the city beach sailors in old costume prepare fresh fish dishes alongside old boats.
In many ways, Rab town itself resembles a mini Dubrovnik with the famous four spires dominating the old town and a core with three parallel streets on different levels all connected by steps and beautiful squares. 
BRAC - the Central Dalmatia region, middle Adriatic
Located west of the city of Split and a very easy 50 minute ferry crossing which runs almost hourly, Brac has a delightful uncommercialised feel.
It is the third largest of the Croatian islands and has the highest point on this part of the Adriatic at Vidova Gora - 778 metres above sea level – for fabulous views across to the island of Hvar and beyond.  The white stone from the island's quarries is famous and when polished, resembles marble – it has been used in many famous buildings including Liverpool Cathedral, Diocletian's Palace in Split, parliament buildings in Vienna, and one small quarry still works today.
Brac has some fabulous beaches and the gorgeous seaside spots of Supetar, Milna and Bol. This is an excellent place for lovers of windsurfing, kite surfing and water sports with particularly good facilities near Bol at the famous, long V shaped Zlatni Rat beach whose tip changes shape according to wind direction.
Visitors arriving on the ferry at Supetar on the island's north coast will find a traditional Dalmatian town located around horseshoe shaped bay.  Waterfront restaurants and cafes have a wonderful buzz and there are some good, pine-fringed, pebble and stone beaches within a ten-minute stroll. Fifteen minute-drive east of Supetar, Postira is a traditional fishing village and is the perfect spot for those who love a quieter location.
HVAR - the Central Dalmatia region, middle Adriatic
Known as "the sunniest island" due to enjoying the highest number of sunshine hours yearly in all of Croatia. The most well-known Croatian island due to a reputation for attracting celebrities and the jet-set along with some younger clubbing visitors.
The busiest place on the island, Hvar Town really is a different place from May to end of June and from September to the end of October. Many visitors head for Hvar Town enticed by the exquisite pale honey coloured promenades, piazzas and the spacious St Stephens Square dominated by the church.
Water taxis take visitors out to the Pakleni Otoci (Hell's islands), a necklace of tiny islands in front of Hvar Town for sunbathing and swimming. As with other islands, the price usually includes the return trip at an agreed time.
VIS - the Central Dalmatia region, middle Adriatic (yet far to the west)
This is the farthest offshore, inhabited island in the Adriatic and is located 35 miles from the mainland Croatian coast! It is quirky, historic and can get crowded from mid-July until the end of August. Visitors come for the amazing history, unspoilt Vis Town and beautiful bays (often only reachable by water taxi – Stiniva Bay has been voted the most beautiful beach in the world - several times!).
Vis is the oldest urban settlement in Croatia and today, with a population of under 4,000, Vis lives from fishing, wine making and tourism. Most visitors head for Vis Town, a beautiful natural harbour. There's the old town district called Kut and an amazing military tour (involving hidden bunkers, store caverns and tunnels) which you should definitely consider on your visit.
KORCULA - the South Dalmatia region, South Adriatic
Korcula is an island much loved by the British and a favourite as a twin centre with Dubrovnik. Korcula town was designed in the same way as Dubrovnik and there are imposing towers and ramparts. The old town centre is breath-taking with herringbone pattern streets on one side of the main street and straight streets on the other side providing a natural "cooling system" in the hot summer months. Across the island other places to visit are Vela Luka, Lumbarda (a few sandy beaches here) and to nearby tiny Badija island (water taxi excursion) where there is still a functioning monastery.
SIPAN – the South Dalmatia region, South Adriatic
This is the largest of the Elafiti islands close to Dubrovnik. Having said "largest" it is still small, and at 9 kilometres long and 2.5 kilometres wide it is easy to explore in foot using the marked paths.  Perfectly formed and with just two villages – Sipanska Luka and Sudjuradj with a five-kilometre road through a valley of olive groves linking the two.
Wander on this hideaway island and visitors will find a few churches, some palaces and villas which once (or still do) belong to Dubrovnik's noble families. There are good walking paths and there is a real getaway vibe here with a limited number of hotels which welcome many repeat guests every summer. Perfect for couples looking for a relaxing break.
LOPUD - the South Dalmatia region, South Adriatic
Lopud is another member of the Elafiti islands and traffic-free. Lopud Town has pastel coloured houses, church spires, palm trees and there is a strong seafaring tradition here. Across the hill there is an amazing, pale sand beach at Sunj with a bistro-bar. As on Sipan, wander off to explore and visitors will discover ruined palaces of former Dubrovnik noble families. A stunningly beautiful spot.