Easter in Croatia is time to spend with family whilst enjoying sweet treats and good food. So, let's take you through a few Easter highlights in Croatia…
 When did we start celebrating Easter? 
The Nicean Council decided, in A.D. 325, that Easter would be celebrated on the first Sunday after the first full moon following the Spring Equinox, unless the first full moon also rose on a Sunday, in which case Easter would be celebrated the Sunday after that. For over 1500 years we have continued to mark the celebration of Easter based on these calculations.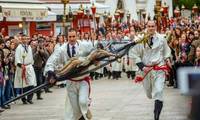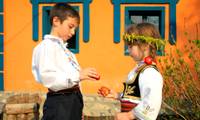 The Holy Week
As Croatia is mainly a Roman Catholic country, (around 90 % of Croatians are Catholic) it can be said that Easter is the holiest day of the year and in every part of the country, there are different Easter customs and ceremonies.
The Holy Week begins with Palm Sunday. In many cities, various ceremonies and processions are held every night during the Holy Week. It is a great custom to carry a palm branch for blessing, but since palm branches are not so frequent in Croatia and not available to everyone, rosemary twigs or olive branches are also acceptable as a substitute. The twigs/branches are carried to the church for blessing. After the blessing, they are most often hung in some parts of the house.
On Good Friday, people commemorate the crucifixion and death of Jesus Christ. It is regarded as a fasting day that traditionally involves the abstinence of meat and substituting it with fish and other seafood. Therefore, people usually eat dried cod prepared in a codfish stew with potato which is locally known as bakalar.
Passions procession are held every year on Good Friday and it is one of the longstanding Easter traditions in Croatia. Every place organises its own procession following the traditional routine by incorporating local customs. The "Following the Cross" (Za Križen) Procession on Hvar is an important part of the island's religious and cultural identity, which has lasted more than 500 years.
The procession is organised through the whole island of Hvar. It starts in the evening of the Holy Thursday and continues onward through Good Friday.  At the end of the procession, the cross-bearer makes a full run with the cross towards the parish church where he throws himself in the embrace of the priest who is waiting there with the locals.
In some Dalmatian regions one week before Easter or on Holy Saturday there is even a tradition for young girls of washing the face in the morning with water enriched with petals of different spring flowers that are harvested in the field or in front of the houses. This was a way to honour water, flowers, youth and spring.
On Easter Sunday families greet each other Happy Easter (Sretan Uskrs in Croatian) and sit around the table to have their traditional Easter breakfast. The tables are filled with food that has been previously blessed in the churches in the early morning. These foods include bread, ham, cheese, chives, salt, Easter eggs, occasional Easter pastries and cakes, as well as other custom foods and sweets.
Easter Monday is the day after Easter Sunday. In many countries like Croatia, the day is declared an official holiday. Therefore, many people in Croatia visit their families and friends to continue celebrating Easter with them. It occurs in the same manner as on Sunday with plenty of food, egg tapping and of course plenty of fun.
Easter Eggs
Easter eggs are said to be a symbol of life. At the end of Easter week, cheerfully coloured eggs are given away to family members. In Croatia, they are called "Pisanice" or "Uskrsnja jaja" (Easter eggs). There are many traditional decorating techniques, and one of the most popular is drawing with leaves, flowers and wax. All colours are made from natural colours of plants and vegetables and are usually painted with spinach, red cabbage, turmeric, blueberries, parsley, coffee, etc.…  
The most common egg colour was red due to the abundance of red beets. In some areas, soot was mixed with oak to obtain a dark brown colour. Simply coloured and unadorned hard-boiled eggs remain on the table all day so that family and guests can enjoy them before serving the main meal.
Fun For Children
A traditional game is played, which is fun with the whole family, where at least two people choose eggs and hold them vertically, while one person taps lightly on the end of the other egg to see whose egg will burst. Anyone whose egg cracks must choose another, then tap the other person's egg and continue until all the eggs are used up and cracked. The winner is the one who ends up holding an egg which was not cracked.
Another indispensable Easter symbol that is present in Croatia and delights our youngest is the Easter bunny. They even make cakes in the shape of a rabbit, while on Easter Sunday he brings sweets and small gifts to the children.
Easter Food
On the day before Easter, many believers also bring baskets of food to the church for a blessing and the food is eaten the next day on Easter morning. Traditional Easter breakfast dishes include ham that is sometimes baked in bread or roast lamb, along with raw radishes, spring onions and horseradish.
Here are few Croatian easter favourites:
Hard-Boiled Eggs
Chocolate eggs wrapped in luridly coloured foil don't feature in Croatian Easter egg hunts. Instead, hand-painted eggs, called pisanice, are a favourite Easter tradition.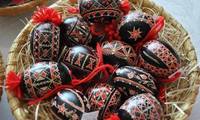 Easter Ham
Tender pink ham with white wine and spices, boiled or baked in thick crusty bread; Easter isn't complete without a juicy joint of ham.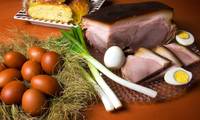 Radishes, Spring Onions & Horseradish
Grated horseradish adds a hot peppery tang to the mild Easter spread of cooked ham and bread, while raw radishes and spring onions are the fresh greenery on the side.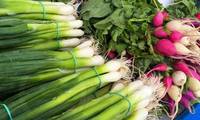 Easter Bread Dolls
An Easter takes on braided sweet bread, Primorski uskrsne bebe (literally 'Easter babies from Primorje') are traditionally made in Primorje and Istria. The dough is plaited around colourfully bright dyed eggs; the end result looks like a bit like a snug swaddled baby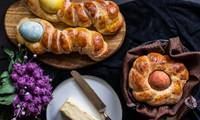 Pinca
It is also a tradition to bake a special Easter bread called pinca or sirnica, this bread originates from the Venetian Republic when eating pastries and cakes was a luxury. Across the country, you can find this bread delicacy under a different name. In Dalmatia, a common name for it is sirnica but the most widely spread name is pinca. Also, there are variations of the recipe, depending on the region. Made with a sweet zesty dough, it's a bit like a big hot cross bun but without the piped cross, and sometimes raisins.