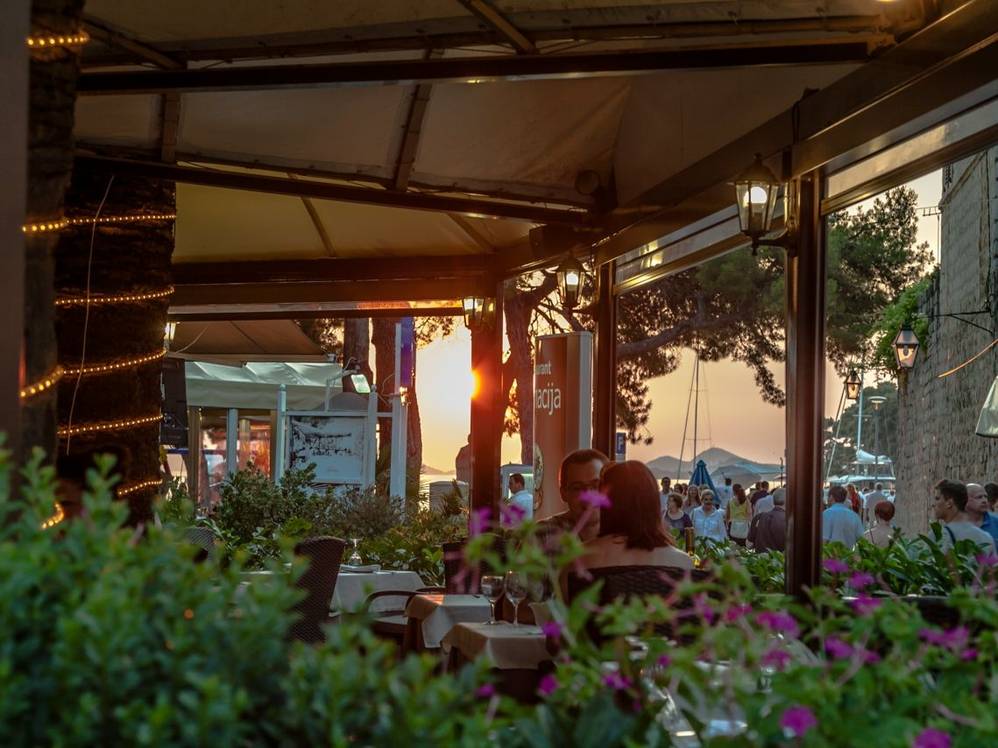 Restaurant Dalmacija, Taverna Otto, Pivnica Dubrava, Lokanda Peskarija and Konoba Kod Marko...
In Cavtat, and part of the charming 4 star boutique hotel Villa Pattiera, is Restaurant Dalmacija.  For the reason of the finest fresh pasta and fish, Completely Croatia is thrilled to have half board on a complimentary basis for our lucky guests.  We can recommend their creamy mushroom fettuccine, washed down with a glass of cold Posip (dry white wine).  Take your time – lunch here goes on for hours at a time, sit and watch the world and people go by – at leisure under the comfortable shady awning.  We spend many a happy hour here when in Cavtat. 
If you have an hour or so to kill waiting for a ferry to take you to one of the Elpahiti Islands, we can suggest Taverna Otto.  Located in a converted wine store, the lunchtime tapas here is to be recommended, from spicy stuffed vine leaves, chargrilled garlic aubergines, to famous Croatian cheese pastry, its really tasty and healthy snack food.
If you fancy an authentic taverna style evening meal with plenty of fish and meat on offer, we recommend Pivnica Dubrava, – located on the Lapad Bay peninsula –ignore the approach this restaurant as its not in the most promising of locations, being in an old 'eastern bloc style' shopping centre.  Fear not – their char grill is treat, and their pancakes are legendary !  And you can eat here for well under £12 per head.  What we would call trencherman food, simple, big and meaty !
For a quick evening meal overlooking the harbour of the old town of Dubrovnik, we think Lokanda Peskarija offers a great fish menu – which is served quickly and freshly.  Sometimes you can feel a bit rushed here as here is always a queue waiting for you to finish to take your table, but it's worth it – and given its location not OTT price wise.
And finally, our piece de resistance and one of our favourite locations anywhere. On the island of Sipan, one of the Elpahiti Islands, in the sleepy harbour of Sipanska Luka,  Konoba Kod Marko.  Just go here, say you know Completely Croatia, and ask for their tasting menu.  It will be a treat of up to 7 tasting dishes, from Tuna Carpaccio, to 'Squid' burgers, fresh anchovies and sea bass.  Totally delicious and you can enjoy your meal dining on a pontoon, on the sea, throwing bits of bread to the unwitting fish who are likely to be on tomorrows menu!  Again incredibly great value and a 'must go to' when we are on Sipan Island; this was also a favourite of Michael Winner's when he was on holiday in Dubrovnik.