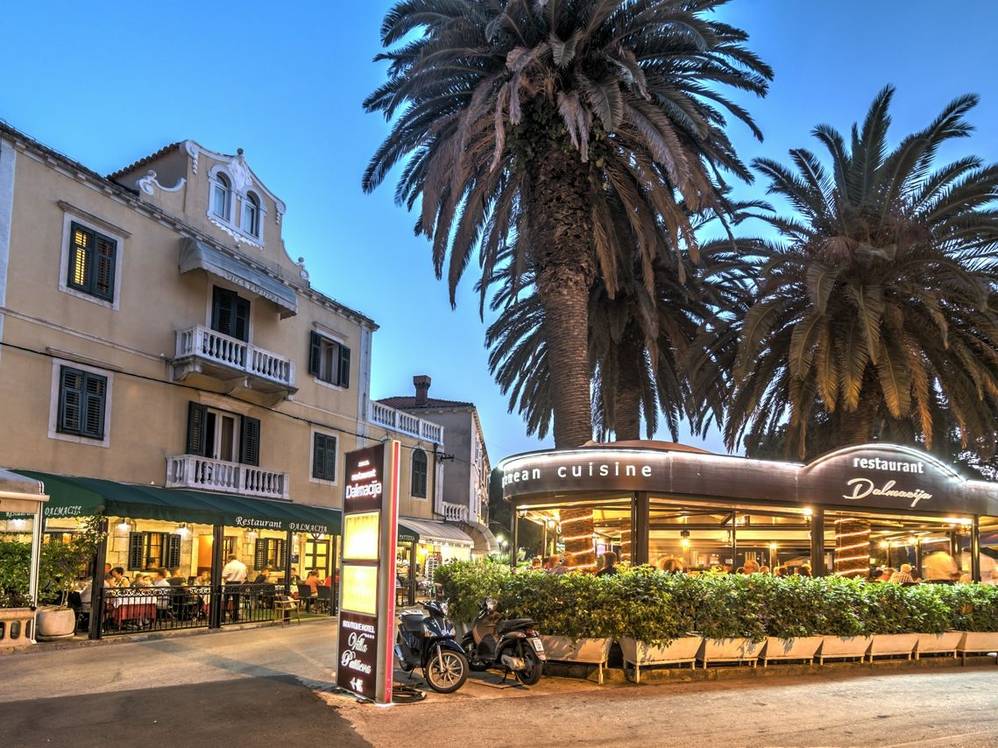 News from Croatia this week is that there is a festival of wine and gastronomy in Dubrovnik. 
What a lovely place to sample the finest of food and wine from local food producers.  Not many people realise quite how much wine, cheese and fruit is produced so close to the historic UNESCO heritage site of Dubrovnik Old Town. Also - further up the coast, there is an international Olive Oil exposition being hosted in the charming town of Zadar.  Lovely 'off season' activities which underline all that's lovely about and why its a good idea to holiday in Croatia
You will be hard pressed to find a warmer welcome than the lovely Villa Adriatica in Supetar, Brac.  This boutique hotel has been run and owned by Dan and Neva with whom its been our pleasure to work for the past 8 years. This year they are spending time and money in revamping the hotel and introducing 3 family rooms, which will be ideal for families with 2 children.  Formed by integrating what are currently 2 separate bedrooms, they'll be ideal to afford Mum and Dad some privacy but the opportunity of a little privacy themselves.  Add to this the lovely hot tub, massage and relaxation zone,  it makes for an affordable relaxing family holiday where everyone gets to feel a little bit special..
Further up the Adriatic Coast is the lovely Heritage Hotel Tisno.  Run with pride and passion by Ana and her husband, quite literally, nothing is too much trouble for this energetic couple.  Not only do they keep the hotel to an exceptionally high standard, but also they will do everything they can to ensure you have a holiday to remember, for all the right reasons, offering tours to Krka National Park and day trips around the Kornati Islands.
In the quaint Medieval cobbled town on Trogir is where you'll find the charming Heritage Hotel Tragos.  Run by proud Owner and Manager Jerko Zunic.  Family owned and proudly authentic is their mantra, this is true;  from the quality of the rooms to the exceptional food on offer in the quaint private courtyard for al fresco dining.  Its quiet situation in this pedestrian only town yet steps from the marina makes it an ideal part of a two centre holiday to Croatia.
We couldn't possibly mention 'family run' without more than a nod to the fantastic Hotel Villa Pattiera.  Located right on the promenade in Cavtat, Jelko or Marianne, his wife, are always on site and will always go the extra mile for guests.  The food in their restaurant (Dalmacija) is amazing, from simple mushroom and cream pasta dishes, to the freshest of seafood, cooked to order, it will not disappoint.  Formerly the home of a famous Croatian Opera Singer, there are just 12 rooms from standard to superior, all furnished to a really high standard.  Mixing an authentic grand house feel with the best in service and comfort.  And, on the island of Hvar, we come to The Quaich. 
Owned and managed by a couple from the UK.  Christine is a proud Scotswoman, and her husband Mick is English born and bred.  About 10 years ago they bought a group of tumbledown shacks and have lovingly renovated and decorated them into just 3 gorgeous little cottages around a central shady courtyard.  Up a small flight of stairs is the sun terrace and pool.   In a place so quiet you can hear yourself think, its about 10 minutes from the nearby town of Jelsa.  But if you don't want to drive, no problem, Mick and his trusty people carrier will be happy to run you about.  Christine is a talented cook and you will find fresh Croatia cuisine, given some stylish twists coming from her kitchen.  The Quaich can also be rented as a whole, ideal for a party of up to 12 people.